Facts & News
Check out our News and our Media Announcements sections for the latest on what has been happening lately around boreal forest conservation. For more detailed reports, factsheets, and maps, search our Publications & Materials section. For quick statistics, we have you covered on our Fast Facts page. We also offer video b-roll on our Media Center page.
News & Announcements
Publications


Media Contact
For media inquiries, expert interviews, photo requests, B-roll, or other services, please contact:
David Childs
Communications and Policy Specialist
davidc@borealbirds.org
206.905.4801
Featured Report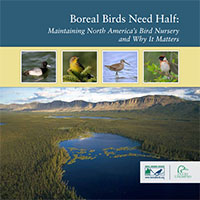 The North American Boreal Forest has been dubbed "North America's Bird Nursery" due to its impressive role in supporting migratory birds. Learn how we can preserve this nursery for future generations in Boreal Birds Need Half: Maintaining North America's Bird Nursery and Why It Matters »
Boreal Birds Blog
With BSI Senior Scientist Jeff Wells, Ph.D.