The 50/50 Approach
It was once believed that protecting just 10-12% of an ecosystem was sufficient in order to preserve the majority of plant and animal species present in the region. Today, however, we know this is far too little. Protecting at least 50% of our major global ecosystems like the boreal forest is needed to give the plants and animals we have come to know and love the best chance at survival. Promoting sustainable and carefully planned development in the remaining regions best allows for a healthy balance between the economic and environmental needs of a forest as important as the boreal while maintaining its ecological integrity.
This '50/50' approach provides wildlife with the best chance at survival while still allowing for local and regional prosperity in the form of natural resource extraction.
Read the report for more details on why 50% of the boreal forest should be protected »
Conservation First: The First 50%
Modern conservation science tells us that at least 50% of our large, natural areas should be placed off-limits to development in order to maintain the full complement of species, communities, and ecosystem services provided by large wilderness areas such as the boreal forest. From billions of birds and a variety of other impressive wildlife to ecosystem services such as carbon storage and water filtration, there are no shortage of reasons as to why we need to protect at least half of the boreal forest from development.
To provide wildlife with the best chance of long-term survival, the following criteria must be addressed:
Conservation areas need to be determined first. Land-use planning should precede decisions regarding industrial development so that lands requiring conservation status can be identified based first and foremost on an understanding of what is required to maintain biodiversity and ecological processes valuable. This will allow the decision regarding what lands should be conserved to be based on what is required to maintain biodiversity and ecological processes as opposed to what still remains once the development 'gold rush' has already taken place.
Protected areas should be networked and interconnected wherever possible. Climate change is slowly changing habitats and species communities around the world. In order to allow for these species to adapt and, if necessary, find newer suitable habitat, a network of protected areas connected through corridors provides such species the best chance of adapting to an increasingly changing world.
Sustainable Development: The Other 50%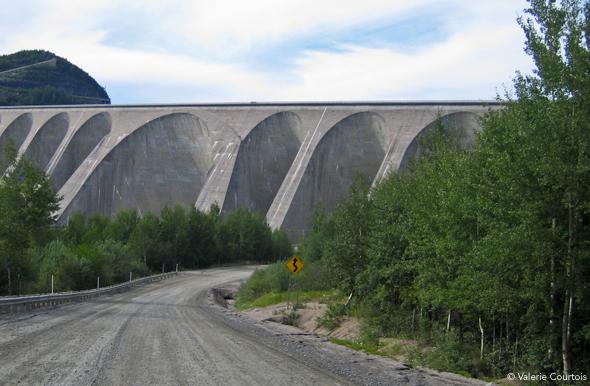 Protecting half of the boreal forest only solves half of the problem. Such grand conservation efforts would be compromised if development were to be allowed to go unchecked in the remaining half. In order to maintain healthy wildlife populations and ecosystem services provided by the boreal while simultaneously promoting income opportunities for boreal communities through resource extraction, it is imperative that such projects meet leading-edge sustainability standards and are planned with the health of future generations in mind. This means that industrial activities on lands outside those where development is prohibited should be carried out with the lowest possible impacts to biodiversity and ecosystem processes.
From third-party sustainable certification and increased focus on the health of surrounding waterbodies to the embracing of new technologies that minimize net land impacts, there are a variety of ways we can improve how we extract resources in the boreal to both protect existing biodiversity communities and leave jobs for future generations.
Promote cross-sector planning. Development planning must take place across industrial sectors (i.e. logging, oil and gas, hydroelectric development, mining, etc.) to avoid cumulative effects that create damaging impacts to biodiversity and the ecosystem.
Minimize net impacts to the land. As technology advances, new ways of extracting resources are allowing for similar or greater returns while lowering the overall impact on affected lands. 
Boreal Forest Conservation Framework
The Boreal Forest Conservation Framework is a groundbreaking vision that embodies the core of the 50/50 approach: equal treatment of conservation and sustainable development across the Canadian Boreal Forest.
The Framework was developed by the Boreal Leadership Council (BLC), a partnership of leading conservation organizations, resource companies, and First Nations. Members of the BLC recognize that all who depend on the forest must come together to plan for its future. They have joined together in a innovative collaboration to promote the conservation and sustainable use of the Canadian Boreal Forest.
Boreal Birds Need Half

SIGN OUR PETITION to show your support for protecting boreal birds and the boreal forest they rely on.
Scientists Support the Boreal Forest
Over 1,500 scientists worldwide have called for the protection of Canada's boreal forest. Read the petition to Canada's government leaders »
How you can help
Subscribe
Get BSI E-Updates with action alerts and news about boreal birds and the Canadian Boreal Forest.
Boreal Framework Endorsers
Birding Companies
Big Pockets Birding Outfitters
Carl Zeiss Optical, Inc.
Steiner Optics
Wild Birds Unlimited, Inc.
Wild Bird Centers of America
Timber/Paper Product Companies
Alberta Pacific Forest Industries*
Domtar*
New Leaf Paper
Seventh Generation
Tembec*
Financial Companies
Batirente Pension Fund
Domini Social Investments*
Calvert Asset Management Company, Inc.*
Ethical Funds*
Tofino Community Investments Ltd.
Tricity Equities
Outdoor-Focused Companies & Organizations
Ace Hardware and Outdoor Sports
Adventure's Edge
Alpine Shop Ltd.
Aquaventure Sales
Bending Branches
Bergans of Norway
Black Diamond
Boreal
Canada Goose
Cascade Canoe and Kayak Centers
Cascade Designs
Chums
Deuter
Grivel
Hi-Tec Sports
Hurricane Kayaks
Intertrek
Jansport
Johnson Outdoors
Johnson Outdoors/Eureka!
Kariboe
Keen Footwear
Lafuma
Leisure Trends
Lorpen Technical Socks
Marmot
Montrail
Mountain Equipment Co-Op
Mountain Sports, Ltd.
Mountainworks
MSR
Nature Vision, Inc.
Nike Europe
Nikwax
Northern Spirit
Old Town Canoe & Kayak
Oslo Sports
Outward Ventures
Outdoor Alliance
Outdoor Research
Outward Bound Wilderness
Patagonia
Platypus
Prana
Riverwear
Rossignol
Salomon
Seal Line
SIGG
Smart Wool
Stikine View Lodge
Timberland Europe
Trade Association of Paddlesports
Thermarest
Tracks
Vaude
Yukon Wilderness Tourism Assn.
Publishing Companies
Addicus Books
Adventure Trails
Allies Publishing Inc.
Alpen Books
Amber Lotus
Ave Maria Press
Bay Tree Publishing
Birder's World Magazine
Book Publishing Company
Blue Line Press
Canoe & Kayak Magazine
Chelsea Green Publishing
Continuum Books
Conversari House
Dogtooth Books
Dragon's Beard Publishing
Epicenter Press
Free Spirit Publishing
Georgetown University Press
Good Spirited Company
Greenline Publications
Gryphon House
Hampton Roads Publishing Company
Harvard University Press
Integrated Book Technologies
Island Press
Kayak Session Publishing
Kedzie Press
KNOCK Magazine
Lake Claremont Press
Lantern Books
Les Figues Press
Lonely Planet Publications
Lost Horse Press
Lotus Petal Publishing
Magiscule Publishing Group
Moment Point Press
Montagnard
Mountaineers Books
Nature Study Guild Publishers
Nomad Press
Nova Publishing Company
Old Harbor Books
Paddling Magazine
Parallax Press
Personhood Press
Pamoon Press
Pruett Publishing
Salt Magazine
SNEWs
Snow Lion Publications
Sounds True Publishing
Silver Light Publications
St. Dymphna Press
Ten Speed Press
Thomson Shore
Unison Media Group
University of Missouri Press
University Press of New England
Wilderness Press
Wolverine Farm Publishing
Woza Books
Other Endorsers
4th Street Market
Birks and Mayors, Inc.
Cedar Corner Development Ltd.
Coffee for the Birds
Counter Culture Coffee
GreenDream Productions
Guakaki Yerba Mate
Eatmore Sprouts and Greens
Edible Planet
Frogfile Office Essentials
GreenDreams Productions
Jorg & Olif
Limited Brands
Lost Horizons
Lorelei, Inc.
Lunapads International Products Ltd.
Nordstrom, Inc.
Paddle and Kayak
Reel Youth
Renaissance Montreal
Renewal Partners
Salt Spring Coffee
Stikine View Lodge
The Catalyst Institute
Tides Canada Foundation
Zerofootprint