Woodland caribou in Manitoba
Credit: Ron Thiessen
Santa's reindeer, or caribou as we call them here in North America, have been treated about as poorly by us as Ebenezer Scrooge treated Bob Cratchit in the classic Dicken's tale, A Christmas Carol—at least before Scrooge was visited by the three spirits. Caribou have been extinguished from the U.S. except for a small band of a dozen or two that sometimes wander down into Washington State and Idaho from British Columbia. They disappeared from Maine (where there is still a town called "Caribou") by about 1908 and had disappeared from other parts of New England and northern New York even earlier than that.
Woodland caribou have also disappeared from virtually all of their southern Canada range and now are listed as Federally Threatened under Canada's version of the U.S. Endangered Species Act called the Species at Risk Act. Mountain caribou herds of the mountainous regions of western Canada are also on the ropes. Even the migratory caribou herds that travel thousands of miles from tundra south to boreal forests and back every year and that were once legendary for their incredible abundance are mostly all at much reduced numbers so that sports hunts have been called off for many herds including some in Quebec and the Northwest Territories. And the formerly robust and healthy herds of the type of caribou found only on the island of Newfoundland have drastically declined in recent years.
Consider those facts a visit from the ghosts of caribou past and present.
Maybe it's time now for a visit with the ghost of one possible caribou future.
Imagine a Canada where the only connection a child every has with a caribou is in old stories, old names of towns, lakes, and rivers, maybe a dusty set of antlers on the wall of an old camp, perhaps an overgrown trail that great-grandad used to say was a caribou trail. It's a future that sadly already exists in places like northern New England, the Maritimes, and much of southern Canada.
The amazing thing is that it is possible today for government leaders to wake up from a nightmare vision like that and start acting like the "good" Ebenezer Scrooge because the solutions have been known for years.
George River Caribou herd
Credit: Valerie Courtois
Here are just five gifts that we can ask Canadian government leaders to give to Santa's reindeer this holiday season:
1) Extend protection to the remaining lands in the Broadback River watershed advocated for protection by the Waswanipi First Nation;
2) Fulfill the Quebec government commitment to protecting an area of at least 10,000 km2 of caribou habitat in Quebec's Montagnes Blanches area - based on best available habitat and zones currently used by caribou;
3) Finalize the proposal for caribou in the Abitibi River Forest of Northeastern Ontario that would conserve over 660,000 hectares of habitat for the Kesagami woodland caribou range;
4) Respect the intentions of Indigenous communities and adopt the Labrador Inuit Settlement Area plan that calls for setting aside from mineral development the 14,000 km2 calving area of the vastly declined George River Caribou herd;
5) In Alberta, finalize the proposed protected areas in the Lower Athabasca Regional Plan and give immediate interim protection to more lands in the Bistcho-Cameron Hills, Athabasca Rapids, Little Smokey and Chinchaga areas.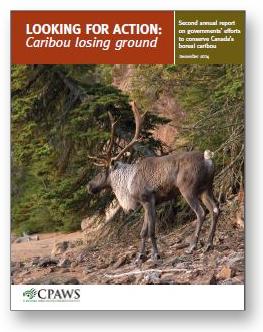 Those are important actions that could help to save Santa's reindeer, but there are many more ways to help across Canada. Canadian Parks and Wilderness Society has just released its annual report on the status of woodland caribou across Canada and within the report there is much information on what more needs to be done to ensure a future with healthy populations of caribou and other wildlife. You can find out more about what the International Boreal Conservation Science Panel wrote about how to keep caribou on the landscape by reading this science-policy brief.