Correction: We originally posted that the following report was written by Jean Iron. It was written by Ron Pittaway based on communications with Jean via satellite phone. The original post was featured on the Ontario Birds listserve.
As you may or may not know, the James Bay coastline (a southeastern extension of the Hudson Bay in Canada) and surrounding area provide some of the world's most important summer and stopover habitat with Canada's Boreal Forest region for a vast number of wetland-dependent birds, especially shorebirds and waterfowl – many of which migrate to or through the United States later in the year. Gathering information on birds is hard due to its remote location, but an ambitious crew, led by Mark Peck of the Royal Ontario Museum, sets off every year to the region to survey the populations of a number of birds and wildlife.

The James Bay region of Canada, where the team surveyed birds
Credit: Google Earth with highlighted box added by David Childs
Here is a recent update originally posted on the Ontario Birds listserve that was put together by Ron Pittaway based on updates from Jean Iron (one of the researchers at the site) via satellite phone:
________________________________________________________
This is today's report (18 July 2010) from Jean Iron via satellite phone for the period 14-17 July from Longridge Point on the southern coast of James Bay. James Bay is the southeastern extension of Hudson Bay reaching deep into eastern Canada south to about 51 degrees north latitude. The unspoiled broad tidal flats, wide coastal marshes and islands of James Bay are of hemispheric importance to southbound shorebirds and waterfowl migrating from the Canadian Arctic. Longridge Point is about 850 km or 530 miles north of Toronto with about one hour more daylight today than Toronto.
Mark Peck of the Royal Ontario Museum (ROM) leads a crew of four surveying shorebirds with a particular focus on the endangered rufa subspecies of the Red Knot. Others crew members are Christian Friis (Canadian Wildlife Service), Lisa Pollock (Trent University/Ontario Ministry of Natural Resources), and Jean Iron (ROM volunteer). The ROM group is also surveying Yellow Rails and collecting data on frogs and toads. The crew arrived on 14 July and is staying until mid August so they will see adults and juveniles of many shorebirds, allowing rough estimates of breeding success.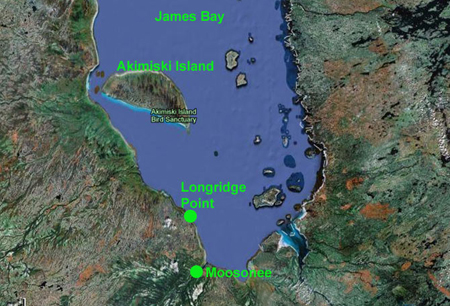 This report comes from Longridge Point, right alongside the coast
Credit: Google Earth with locations added by Jean Iron
SHOREBIRD OBSERVATIONS
Usually only the high count day for each species is recorded below.
Recent weather has been wet and windy affecting observations.
Black-bellied Plover: 1 adult on 17th.
Greater Yellowlegs: 243 and 1 juvenile on 17th. Greaters nest nearby in the Hudson Bay Lowlands.
Lesser Yellowlegs: 375 adults on 16th, 3 juveniles on 17th. Lessers nest nearby in the Hudson Bay Lowlands.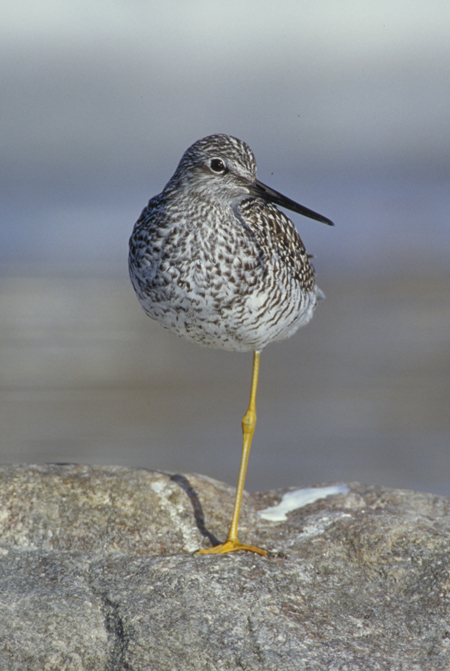 375 adult Lesser Yellowlegs were spotted on July 16th
Credit: Tye Gregg, Ducks Unlimited
Whimbrel: 21 adults on 17th.
Hudsonian Godwit: 169 molting adults on 16th. These are migrants from farther north.
Marbled Godwit: 18 adults on 16th. There is a small isolated population breeding on southern James Bay in Ontario, Akimiski Island in Nunavut, and Quebec.
Ruddy Turnstone: 25 adults on 17th showing no signs of molt.
RED KNOT: 725 molting and fading adults on 17th. 10 knots on 17th with leg flags included 2 from Argentina, 6 from Delaware Bay (USA) and 1 from Virginia or Florida. About 10% of the rufa subspecies is marked.
Florida and South American wintering knots form two populations, which have different migration routes and breeding grounds. When the data on flagged birds are analyzed, we will know the approximate ages and ratio of males to females, which was determined at time of banding using molecular sexing techniques. Researchers in other locations of North and South America will re-sight some of these birds so we will learn more about the populations using James Bay and their migration routes.
Sanderling: 10 molting and fading adults on 16th.
Semipalmated Sandpiper: 600 slightly molting adults on 17th.
Least Sandpiper: 15 adults on 16th showing no signs of molt.
White-rumped Sandpiper: 7 molting adults on 17th. Adults should soon increase in numbers.
Pectoral Sandpiper: 246 adults on 16th showing no signs of molt.
Dunlin: 18 worn adults on 17th. Thousands of Dunlins stage in James Bay, where adults undergo a complete prebasic molt of body and flight feathers before resuming migration about mid September. Almost all juveniles undergo a partial molt of body feathers (not wings/tail) before migrating. This is why Dunlins are very rare south of the subarctic until much later than most shorebirds.

Longridge Point on the James Bay coast
Credit: Don Sutherland
Short-billed Dowitcher: 1 bright (extensive cinnamon below) adult of the hendersoni subspecies. This subspecies breeds mainly in muskegs and bogs/fens across the boreal forest from northern Manitoba to the southern Northwest Territories and northeastern British Columbia.
Wilson's Snipe: 2 still winnowing.
Shorebird Foods: Shorebirds in Hudson and James Bays feed on the abundant larvae of the bivalve Macoma balthica (clam), and in southern James Bay, the gastropod Hydrobia minuta (snail), as well as a variety of crustaceans (shrimps/crabs & relatives), worms and dipteran (fly) larvae (Ontario Shorebird Conservation Plan 2003).
OTHER BIRD SIGHTINGS
Birds: Gadwall, 2 on 16th; American White Pelican, 30 on 16th and 22 on 17th; Yellow Rail, 1 singing (tick-tick) regularly, they were commoner in 2009; Merlin nesting on ridge behind camp; Short-eared Owl, 2, Arctic Tern, 2 on 17th; 2; Boreal Chickadee, 2 near camp; Gray Jay, 3 near camp; Pine Grosbeak, 1 on 16th; Northern Waterthrush; Tennessee Warbler with young; Clay-colored Sparrow, 2 singing males included 1 on 16th and
1 on 17th, a thin population breeds in open willow and birch scrub adjacent James and Hudson Bays; Le Conte's Sparrow, 5 on 16th; Nelson's Sparrow, 10 on 16th; Fox Sparrow, singing; White-winged Crossbill, 65 on 15th.
Mammals: 3 Belugas (White Whales) on 16th during high tide at Beluga Point east of camp. Polar Bears are not expected because they rare south of Akimiski Island. One close Black Bear was seen. Last year a Black Bear broke into the kitchen cabin, made a mess and ate a lot of food.
This required someone to guard the food so that person wasn't available to survey shorebirds. This year a solar powered electric fence surrounds the food cabin. Vole and mouse numbers are low, which is similar to most other locations in the Hudson Bay Lowlands, except Akimiski Island where Meadow Voles are common.
Amphibians: American Toads of the colourful Hudson Bay subspecies copei are abundant; Boreal Chorus Frogs are still singing, and Wood Frogs.
Butterflies: Viceroy, Common Ringlet, White Admiral, Red Admiral, Fritillary sp. (Atlantis or Great Spangled), Sulphur sp., and Cabbage White. Recent wet weather hasn't been good for butterflies. The 16th was the best day when most of the above were seen.
---------------------------
Literature Cited: ONTARIO SHOREBIRD CONSERVATION PLAN. 2003. Ross, K., and K. Abraham, R. Clay, B. Collins, J. Iron, R. James, D. McLachlin, R.
Weeber. 48 pages. Canadian Wildlife Service, Environment Canada. Link to pdf below.
www.on.ec.gc.ca/wildlife/plans/pdf/plans-shorebird-e.pdf
Acknowledgements: I thank Ken Abraham (Ontario Ministry of Natural Resources (OMNR)) and Don Sutherland (OMNR) for information.
Ron Pittaway
Minden, Ontario