After my May trip to the spectacular and birdy Pimachiowin Aki—Land That Gives Life—area of Manitoba in late May, I had the good fortune to be introduced to Christian Artuso. As Bird Studies Canada's Manitoba Program Manager, Christian is heading up the Manitoba Breeding Bird Atlas project and had the opportunity to do some bird work in the Pimachiowin Aki area this summer. Christian was kind enough to provide us with a super guest blog and photos of the experience. Enjoy!
-------------------------------------------------
The east side of Lake Winnipeg has virtually no roads and is generally regarded as pristine wilderness with the southernmost population of Woodland Caribou. Here lies the proposed Pimachiowin Aki (bimaaji'owin aki) World Heritage Site. With countless lakes, rivers and streams winding off the boreal shield and feeding into Lake Winnipeg, this area is truly a life giver and lifesaver and indeed a world heritage.
This year, the Manitoba Breeding Bird Atlas made a serious effort to gather data from this largely under-surveyed area. With proposed new roads and developments, it is imperative to collect baseline data now. Already, work has begun on the Bloodvein all-weather road and where one paves the way, others will always follow and more spin offs will occur. It seems that people's in the various communities on the east side are mixed regarding such development, with many wanting economic opportunity but at the same time recognizing the threat to a way of life and a global treasure. I believe we all should be very attentive to this wonderful region.
As part of a broader effort, I had the opportunity to visit the community of Berens River (called mememwiziibing in Ojibwe "pigeon river" and presumably a reference to Passenger Pigeon) thanks to Perimeter Aviation (and special thanks to the folks at the Barra Inn), from where I was able to survey some 30 km upstream. I also visited Blackduck Lake along the McPhail River and Cash Lake southeast of Sasginnigak thanks to pilot Vern Guttman of Lac du Bonnet.
Though my taste of what this region has to offer was brief, I was delighted with what I found – tall mixed boreal forest with various subtle clines from dry to wet, from conifer to mixed to deciduous. The forest floor ranged from dense thickets to open rock or cushioned in pine needles or clad in a cushion of lichens. I loved the rich pinks and warm ochres of the exposed shield and the sometimes-steep cliffs or hidden overhangs and crevices they produced. Though my tired legs often complained, I loved the water that surrounded me everywhere I went, now in tiny pools, now in large lakes, tiny creeks, wide rivers, roaring rapids, impenetrable bogs and lethargic backwater channels. Each lake had a personality of its own, some large with white caps, some small and round, some with many hidden bays and irregular shapes, some almost river-like, some shallow and vegetated, some garnished with the heads of wild rice, others with reeds. Those who coined the saying "water is life" should champion this place! I loved the sights and sounds of the region's wildlife, even the numerous teasing tracks of animals unseen.
Along the McPhail River, Vern and I found a pair of Trumpeter Swans with four cygnets. These magnificent birds seem to be mounting a comeback after an era of human persecution. They are recolonising the eastside from reintroduced populations in those U.S states just south of us. For that reason, seeing them in the boreal forest always kindles a feeling of hope. They seemed mighty surprised to see a human being in this vast wilderness so we let them swim to safety away ahead of us.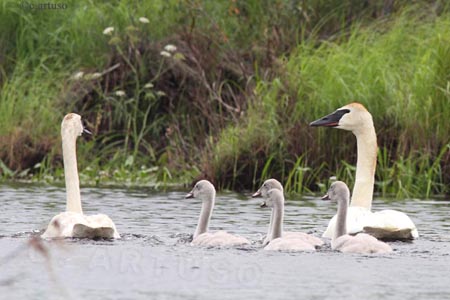 Trumpeter Swans and cygnets along the McPhail River.
© Christian Artuso
I found Bald Eagle nests in a variety of places, especially on lake islands, and other raptors such as Broad-winged Hawk (as far north as Berens River) and the elusive Sharp-shinned Hawk. A cooperative Long-eared Owl in Berens River was an unexpected bonus. The call of Sandhill Cranes echoed from hidden bogs behind the trees. Everyone had their little haven it seemed.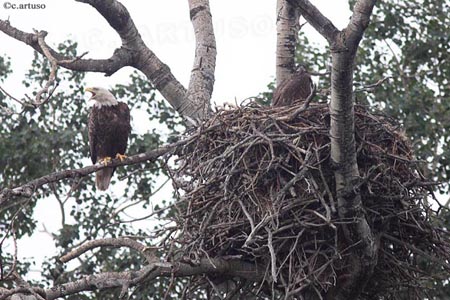 An adult Bald Eagle standing guard with a youngster in the nest.
© Christian Artuso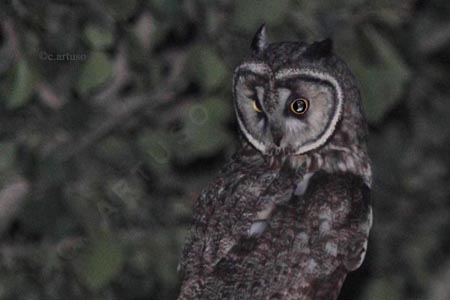 A Long-eared Owl on the north bank of the Berens River.
© Christian Artuso
Wherever I went, I found some of the species designated as "Threatened" by COSEWIC (Committee On the Status of Endangered Wildlife in Canada). I was delighted to hear Whip-poor-wills as far north as Berens River and many Common Nighthawks everywhere. I found several Canada Warblers east of Berens River, even though my visits were in July and bird song was reduced. I also found Olive-sided Flycatcher along the McPhail River.  Perhaps owing to the lateness of the season, I did not find any Rusty Blackbirds on these visits.
I found many species of woodpecker and secretive forest passerines such as Yellow-bellied Flycatcher, Connecticut Warbler, Bay-breasted Warbler, Golden-crowned Kinglet, Brown Creeper and Purple Finch as far north as the Berens River. I tried to place my point counts equally in the different major habitat types encompassed within the same forest to capture this diversity.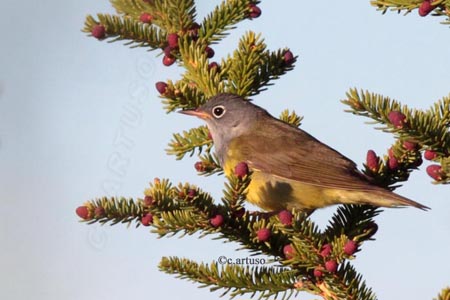 The Connecticut Warbler is a skulking resident of the eastside forest.
© Christian Artuso
The whole place seemed rather like a nursery as I frequently encountered adults of many species feeding young (such is the trade off with a July visit – less song but more confirmed breeding). I even had to get out of the way of charging Ruffed Grouse hens on several occasions who didn't want me to stop for even just a minute to admire their babies. A Spruce Grouse hen, on the hand, chose to lead her downy young quietly away.
(See image descriptions below)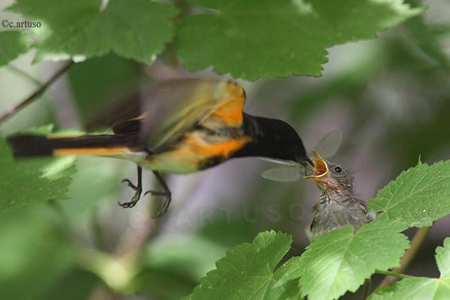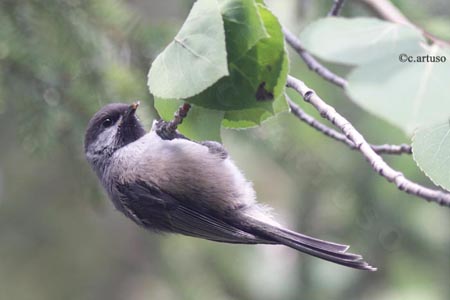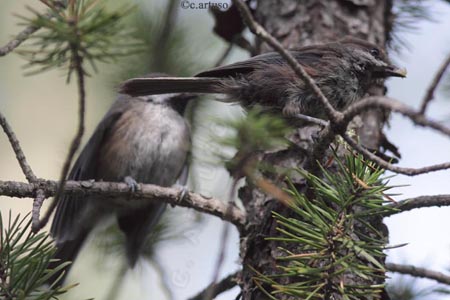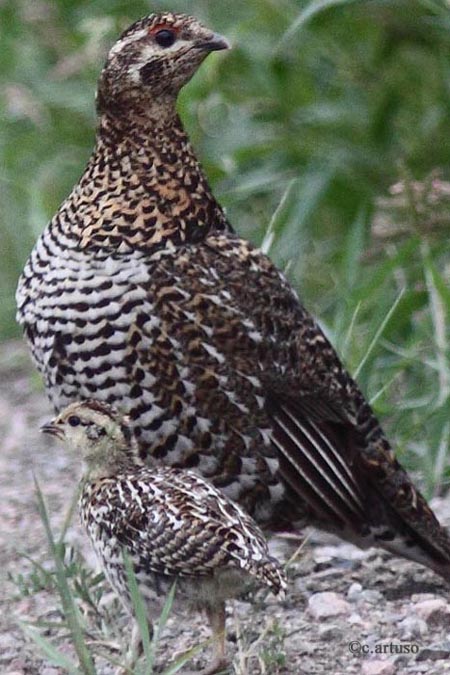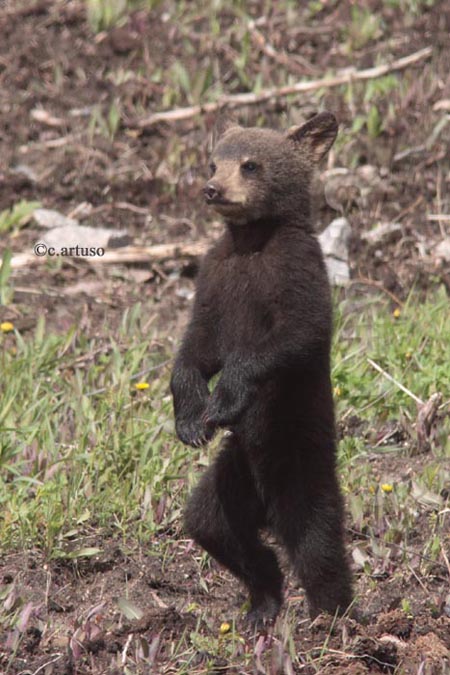 The boreal nursery – some of this year's young: A male American Redstart feeding a fledgling, a young Boreal Chickadee first feeding themself and then begging to a parent, with much calling and fluttering of wings (notice the fresh and fluffy appearance of the youngster whereas the parent is worn ragged), a Spruce Grouse hen with one of her brood, and a young Black Bear cub embarking on an early adventure.
All photos in this post are from the eastside of Lake Winnipeg and © Christian Artuso 2011.
So now the plan is to send as many surveyors in next year to continue our monitoring and to experience this magical region during the height of summer birdsong.
Dr. Christian Artuso
Bird Studies Canada: Manitoba Breeding Bird Atlas Coordinator
August 4, 2011: Winnipeg ("at the place of dirty water")