When it comes to assessing the true levels of impacts of industrial activities on wildlife, including birds, conservation science has a rather poor track record. Yes, we have the occasional estimate of the number of birds killed from an oil spill or at a radio tower or from a disease outbreak or poisoning event.
All of these are the easy ones.
But what about the hidden impacts from human activities that change vast areas of the earth's landscape?
It was exactly this question that we decided to answer for a place identified by the U.N. as one of the 100 global hotspots of environmental change—the Boreal Forest of northeastern Alberta underlain by what may be the world's dirtiest supply of oil in the form of underground tar deposits. Almost all of the oil derived from those deposits is exported for those of us in the U.S. to use for driving our cars and flying commercial aircraft.
Known by industry as the oil sands or tar sands, the future of the Boreal Forest of northeastern Alberta is at the crux of a debate about how much society is willing to give up in return for the quick financial gain represented by unfettered expansion of the tar sands industry.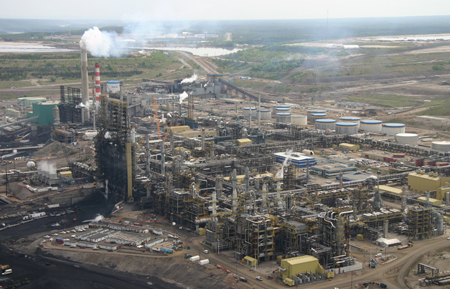 Suncor Upgrader Facility
Credit: David Dodge, Pembina Institute
Already previous work has demonstrated that there is virtual certainty that we will lose the Woodland Caribou of the region. Over the last year we worked on an analysis of the cumulative impacts of current and future tar sands industrial activity on the birds of Alberta's Boreal Forest. You can click here to see the entire report but here are a few of the key findings.
- Tar sands deposits are underneath about 35 million acres of Boreal forests and wetlands that in pristine condition would support between 22 million and 170 million breeding birds—birds that spend the winter in the backyards, parks, and bays of southern Canada, the U.S., and beyond;
- The Peace-Athabasca Delta just downstream from the tar sands deposits is a globally important wetland complex that regularly hosts hundreds of thousands, perhaps millions, of waterfowl, shorebirds, and other waterbirds;
- Strip mining of tar sands deposits is projected to destroy 740,000 acres of Boreal forests and wetlands and cause the loss of up to 3.6 million adult birds and future productivity amounting to 72 million young;
- Extracting oil from most of the 35 million acres of tar sands deposits will require a vast spiderweb of pipelines, roads, compressor stations and other infrastructure. This will eventually destroy more habitat than strip mining and is projected to result in the loss of 14.5 million adult birds. Fragmentation effects could results in the further loss of up to 76 million adult birds;
- Tailings ponds used in the tar sands industrial process are likely killing thousands of birds annually;
- Boreal birds and their habitats in northeastern Alberta and adjoining regions of Saskatchewan are being negatively impacted by airborne and waterborne pollutants and toxins from tar sands industrial operations though we were not able to quantitatively estimate this impact;
- Total cumulative losses of birds from the Boreal Forest of northeastern Alberta as a result of tar sands industrial operations could be as high as 166 million birds.
Next time you fill your gas tank up consider whether you are draining down the reservoir of birds from the Great Bird Nursery—the same birds that you have come to expect will always be there for you to enjoy when they return south from the Boreal.
Click here to see the full report: Danger in the Nursery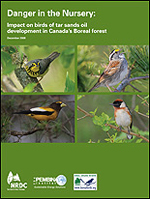 Click here to read a blog by co-author Susan Casey-Lefkowitz of NRDC about the report.
To see some of the media stories about the report click on the links below:
Reuters article (also printed in Economic Times and Times of India)
Canadian Press article (also printed in CTV News, the Toronto Sun, the Edmonton Sun, Oilweek Magazine, the Sault Star, the Chronicle Herald, St. Catharines Standard, the Orillia Packet & Times, and Canada East)
Canada.com article (also printed in the Financial Post, the Leader Post, the Star Phoenix, the Calgary Herald, the Edmonton Journal, and the Windsor Star)
 Also, check out this great blog covering the report on Birder's World's Field of View:
http://bwfov.typepad.com/birders_world_field_of_vi/2008/12/tar-sands-exploration-takes-big-toll-on-birds.html#more