Conservation Spotlights
We highlight below some of the areas with substantial opportunity for boreal forest conservation.
Cool Biodiversity Hotspots

Biodiversity reaches far beyond the tropics. Learn why Canada's boreal forest is crucial to global biodiversity. 
Meet a Boreal Bird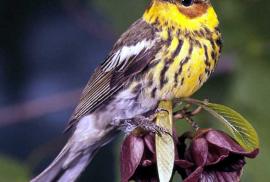 An estimated 83% of the global population of Cape May Warbler breeds in Canada's boreal forest. 
How you can help
Take Action
Add your voice to petitions and action alerts for campaigns that help boreal birds and the Canadian Boreal Forest.
Boreal Birds Blog
With BSI Senior Scientist Jeff Wells, Ph.D.